Before I start with the list of winners from our Nautical week,
I forgot to tell you yesterday we have joined Bloglovin
I am always the last to join these things, Mandy (our Design Team Leader) has been nagging me for weeks.
I finally got round to doing it and claiming our blog.
I must admit it is great fun and you can follow lots of different blogs, just by pressing this button.
Ok are you ready here is the list of
SEVEN winners
from our Nautical week.
You have 7 days to claim your prize. Please email Bev
bev.craftyribbons@gmail.com
with your address
AND
your prize details.
Beach hut kit winners are.
Hazel
Wow! This is amazing and brilliant, i would never have thought of using a towel to make a bag!!
TFS!
Hugs, Hazel xx
Phi
Another great idea Ali. I have some spare towels and would love to win the Beach Hut kit and try your idea out.
Bravena
Thanks for idea and tutorial, and yes would love that kit!
Ribbon to wrap around your home made Sea Salt Fudge - winner are.
Made another batch yesterday, it is getting addictive!
Sarah
Wrap it with ribbon....it wouldn't last that long for sure!!? For the sake of research I am off to make some now, will check out the flavour and make a decision on the ribbon afterwards!!
Your own message in a bottle winners are
Jen
This is a wonderful idea, rather than a card a keepsake that you will always be able to look at and take with you wherever you go. Charming, beautiful and truly for the recipient. I love it. I think my message would be, "Wherever you are, you are always part of me". Hugs, Jen :-) x
Irene
My message in a bottle would be..hurry home, miss you like crazy.........as my daughter is living in the UK and has no intentions coming back to Holland, poor me *lol*!!!!
xx Irene
I love this picture
Finally the collection of Nautical ribbons go to.......
Migdalia
Wow!! This is AWESOME!!!
Have a wonderful day,
Migdalia
Hope you enjoy your prizes girls, remember you have 7 days in which to claim your prize.
(Message in a bottle winners, sorry your prizes will not leave until the end of next week.)
Talking about Messages in a bottle - they are now on the website.......tee.......hee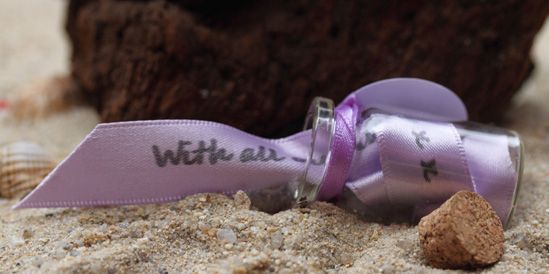 Find all the details
here
£6.50 with FREE UK Delivery and totally unique!