Happy Friday everyone.
Well well how come such a simple idea could create such interest.
I have created lots and lots of different items over the years,
but my doggy cushion has certainly hit the spot!
Firstly thank you to everyone that joined in with last weeks Friday FREEBIE,
it is always great to read your comments.
You have given me several ideas for other animal silhouette ribbons.
As we are away again – yes a different city, different hotel room.
Although I must admit this hotel room is rather nice. Tony got us upgraded,
and we even have a room over looking the river. If you have forgotten where we are this week,
we are in London at Excel for the Hobbycrafts show.
No random org this week, so lets go with our room number again.
Number 03 = WendyL
WendyL left us this comment.
Congratulations WendyL please email Bev
bev.craftyribbons@gmail.com
with your address details
and she will post you the WANT IT ALL Animal Silhouette Ribbons.
You have until Thursday 10th April to claim your prize.
So you liked my doggy cushion – poor Bev said the phone was going crazy yesterday
with customers wanting the whole set.
Buttons, felt, ribbons, template and the cushion cover. Oh and a different dog shape!
Ooops sorry Bev.
So for this weeks Friday FREEBIE you can design your own cushion.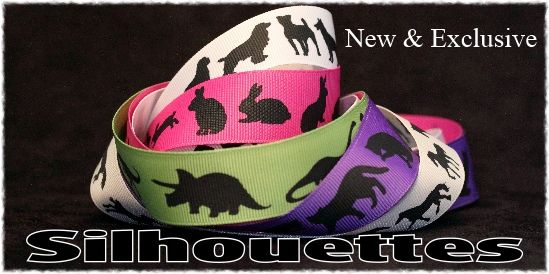 and I will turn it into a template for you.
AND the animal ribbon colour of your choice,
AND the Black Basics 2 Go buttons,
AND the black felt.
So all you will need is the cushion and the time to make it!
Add your name to the list AND leave us a comment with your chosen animal and colour.
Nearly forgot – do come and see us today and Saturday at the Hobbycrafts show at Excel London,
on stand C28. Find out more about this show
here
.
Have a great weekend.