You may have wondered why we have called this event

Easter Bunny Hop
Well, today we are doing the hop!
No I have not lost the plot, it is a little play on words – we are having a BLOG HOP.
But first off todays' sponsor is none other then…………….
That's right us!! We have a super prize of……….
ooooh what would you buy with £25 in your favourite ribbon store?
I tried something New for my creation today
A Zentangle Easter card.
You have to try these things. I enjoyed it and have done several more since,
I do like tangling!!
Our NEW Silhouette ribbons are perfect for this art, so for todays candy………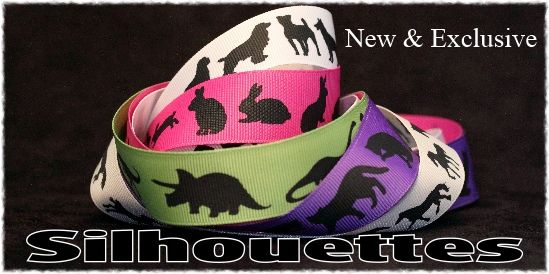 a WANT IT ALL Collection of the all the Silhouettes – that's 20 different ribbons!
Add your name to the list below for a chance to win.
OK it is time to start hopping, hop, hop, hop……………
So let's tell you all about the bunny blog hop.
You will need to start at the very beginning which is on the
Hop around the DT blogs in the order they are listed and leave them a comment.
While you are hopping around please watch out for our lovely little bunny which is hiding away and make a note of whose blog it is on.
So when you return to the inspiration blog you can Link up with your name and which blog you saw the Bunny or Bunnies.....GOOD LUCK,
Have you found the hidden bunny yet? Do hope you are having fun and enjoying the hop.
Have a great day