Don't you just LOVE wednesday's? Say hello to wednesday "hello wednesday" It's all downhill from now on to the weekend - yippee!!!
Charlotta from our design team sent me these two delightful cards a couple of weeks ago. They use our Exclusive Cupcake Christmas ribbons.
These are delish Charlotta. These ribbons have been so popular we had to go for a mid season re-print. With the added bonus of the Cupcake digi stamps and matching toppers it makes cards so much easier to make. Find this collection
here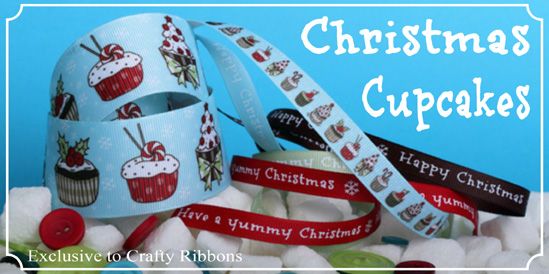 Thank you Charlotta, Elaine and Laura from our design team for helping out with our Hello wednesday projects for the last few weeks. Sadly, I just have not had the time to craft. Boo hoo.
BUT................now I have a sparkling clean and tidy design room. I wished I had read your comment ealier Laura about the hoover and sock. I spent a good half an hour on my hands and knees picking all the buttons up!
So a tidy room means.........................crafting time.
With our Crafty Advent looming I have lots of creating to do. Yesterday I crafted all day. I started several ideas, machined, stuck, sprayed....(no not telling, you will have to wait for the advent days!). I did all the bulky messy bits in the office and then took the hand sewing work home. There is nothing better then sitting curled up on the sofa, telly on in the back ground, hand sewing away. Although I do get told off for making too much noise sorting buttons!!!
Today I am back crafting again, my sprayed project is now dry so I hope to finish that idea this morning. What next sewing machine or glue gun?
Have a great day, hope you are crafting too.