Did you know that it was National Cupcake week?
Just perfect for the launch of our FIRST Christmas ribbons......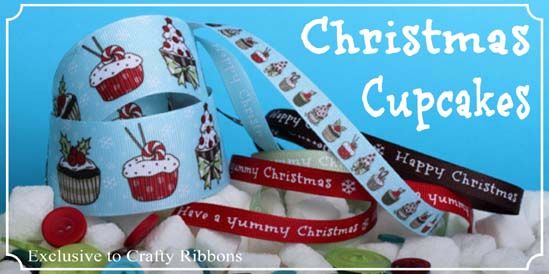 How yummy can you get?
Six stunning cupcakes lovingly made and placed on a background of white snowflakes.
We have matching word ribbon -
classic Happy Christmas and then a little cheeky one Have a yummy Christmas
Not only EXCLUSIVE ribbons this year - we have teamed them up with
an EXCLUSIVE button selection that match perfectly with the
turquoise, lime, chocolate and red of the Cupcake ribbons.
AND
you can truly enjoy these cupcakes even further by using the images.
You can download each cupcake, resize and play, both PNG files and JPEG files are included in each download.
Not one for downloading digis?
We have done all the hard work for you and created pre packed toppers,
colour your own and pre coloured cupcakes.
All that you are left to do is cut them out and play!
They all work beautifully together
How cool is that!
Fantastic way to transport your homemade Christmas Cupcakes.
You can find these beauties
here
Our special Design team girls have had these ribbons for a few days now.
They had strict instructions to keep "mum" as they were Top Secret!
But they have managed to have a play...............
see more on Melly Moo
here
Desinged by Kate more
here
Laura has been busy with the cookie cutters
here
Hope you enjoy our Christmas Cupcakes - remember no calories around here!!!!