Hello everyone, oh it is so nice to wake up in ones own bed.
Tony and I still feel tired from the shows, but I am sure a few more sleeps
and we will be back to full strength.
Do you remember I told you I ran out of time to launch all the NEW ribbons before I started
the shows - tah dah well here they are.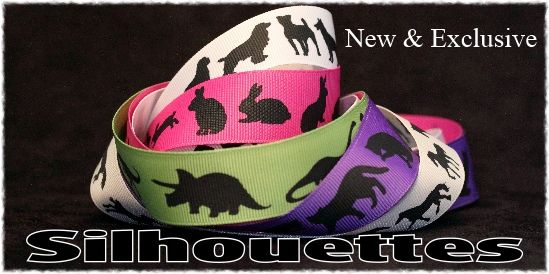 Silhouettes or shadows of dogs, cats, horses, rabbits and dinosaurs.
Each animal group has four different colours. I should say FAB colours.
Look what our talented design team have been doing with the ribbon.
Super duper creations.
The ribbons are all 25mm grosgrain. They have been really popular at the shows.
We came back from the NEC with 1 (single one ribbon) of the Garden Rose Rabbit ribbon.
Something to do with Easter soon maybe?
Have a great day everyone – I am hoping to get a few hours to myself today.
Not to take off or go out silly – BUT I have an idea for a NEW range of ribbons.
AND I have been itching to get my ideas laid out.
Ooooh……………….. maybe more new ribbons soon.