Rather then leaving a comment we are asking you to leave your name to the linkz. We would still LOVE you to leave us a happy comment!
Todays Friday FREEBIE is a bundle of these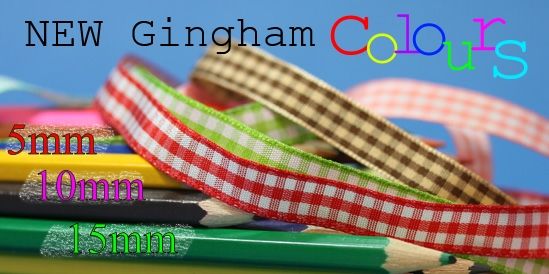 You can find the 10mm on our website
here
21 stunning new colours.
I think we now have the largest selection of Gingham ribbon colours on the web - 36 awesome.
I had a bit of a drama getting them on the website yesterday - I blew the website up!
First the website crashed and then the operating system went offline.
Tony phoned the server company to see if they had an issue - nope everything fine.
He then tried our IT guys, as I heard him on the phone,
I handed him a note.....I have Laryngitis and can only croak you see
"I think it was something I did"
Yep it was me. I had created a loop in the system and the website had run out of memory tying to load.
Thankfully we were only offline for about 30mins but it seemed much longer.
So please enjoy the new Gingham ribbon colours, a lot of blood, sweat and tears (mine) went in getting them to you!!!

I am working on the 5mm and 15mm today
Wish me luck!!